Summary of Vietnam week progress of Parallel Studio in Can Gio, Viet Nam
 
Cần Giờ Studio is a course held jointly by Faculty of Civil Engineering, Ton Duc Thang University and Faculty of Architecture, Hasselt University. This studio entails 20 master students of Hasselt University and 23 bachelor students of Ton Duc Thang University. The site would take place in Can Gio, a coastal district belonging to HCMC, Vietnam. The course will be 1 semester long in which students from both universities will have one joint studio in one week at TDTU and Can Gio. After that, the studio will be processed parallel in both universities with close contact and sharing information.
The researching week was started in 5th February 2017 and ended in 10th February 2017, included vary activities from seminars, surveys and concept development and also cultural exchange activities between Vietnamese and Belgian students.
Below is a brief summary of Vietnamese and Belgian students in Ton Duc Thang University and Can Gio district: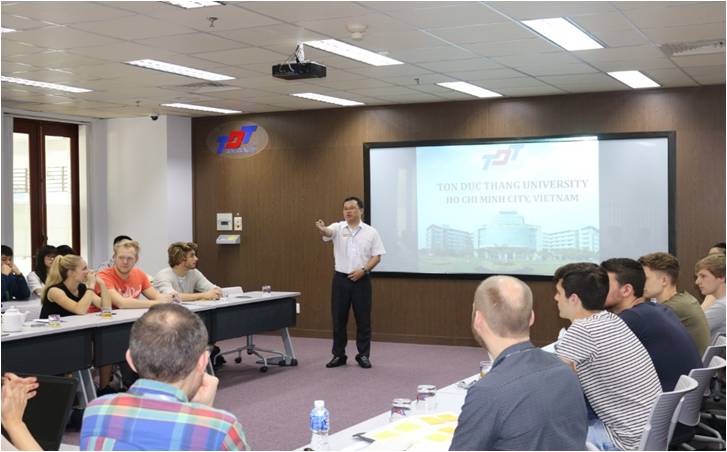 February 5, 2017: Get-acquainted activities, cultural exchange between students of 2 university and brief introduction about the studio.
February 6, 2017: Surveys and site-analysis activities in Can Gio district. And a Vietnam – Belgium cultural exchange night with fire-camp and Vietnamese andBelgian games.
February 7, 2017: Local focus interview and concept development for each student's project in the morning and a trip to Monkey islands in Can Gio in the afternoon.
February 8, 2017: Individual project development in the morning and group work in the afternoon for the summary report.
February 9, 2017: Individual work and discussions with tutors and Vo TrongNghia architect's seminar in the morning and farewell party in the evening
February 10, 2017: Belgian students' Mekong Delta tour.